Sept 6, 2018 by Joshua Caplan
Twitter on Thursday permanently banned accounts belonging to Alex Jones and Infowars over a video of the radio host confronting a CNN reporter for lobbying to blacklist him from the social media platform, which CEO Jack Dorsey described as a "digital town hall" before Congress the day before.
In a statement shared on Twitter, the company said it terminated Jones' accounts for "abusive behavior":
Today, we permanently suspended @realalexjones and @infowars from Twitter and Periscope. We took this action based on new reports of Tweets and videos posted yesterday that violate our abusive behavior policy, in addition to the accounts' past violations. As we continue to increase transparency around our rules and enforcement actions, we wanted to be open about this action given the broad interest in this case. We do not typically comment on enforcement actions we take against individual accounts, for their privacy. We will continue to evaluate reports we receive regarding other accounts potentially associated with @realalexjones or @infowars and will take action if content that violates our rules is reported or if other accounts are utilized in an attempt to circumvent their ban.
Ahead of Twitter CEO Jack Dorsey's testimony before the House Energy and Commerce Committee Wednesday, Jones confronted CNN's Oliver Darcy outside the hearing room, accusing the reporter of leading a campaign to purge Infowars from the Internet.
A Twitter spokesperson told the Daily Beast that Jones' exchange with Darcy — in which he referred to the activist reporter as a "rat," "possum," "evil-looking," and a "virus" — violated the platform's Terms of Services. Jones mocked Darcy during the confrontation, predicting the CNN reporter would "go to Twitter and say, 'He's bullying me! I'm only trying to deplatform [inaudible] and celebrating it, and then insulting my viewers a week later, saying no one's doing it!'"
The company warned it will "take action" against Infowars if Jones attempts to bypass the permanent suspension.
In addition, Twitter has placed Infowars editor-at-large Paul Joseph Watson under a 12-hour suspension. A screenshot obtained by Breitbart News shows Watson's account was temporarily limited after sharing a video of the exchange between Jones and Darcy, with minimal commentary: "Here's the video of Alex Jones confronting CNN's @oliverdarcy – the reporter who lobbied YouTube & Facebook to shut down Infowars. 'You are incredibly shameful,' Jones told Darcy, adding, 'You are literally an anti-American, anti-free speech coward.'"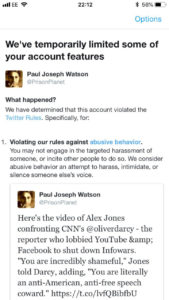 In response, Watson told Breitbart News, "The fact that Alex Jones has been banned for 'targeted harassment' for a video in which he had a forthright but ultimately peaceful exchange of views with a CNN reporter is ludicrous."
"This is clearly corporate media working in cahoots with Big Tech to silence its competition once again," he added.
Darcy has repeatedly dismissed concerns of big tech platforms suppressing conservatives and Republicans during an election year, recently criticizing President Donald Trump bringing attention to the issue in a series of tweets last week. "President Donald Trump on Friday morning claimed in a tweet that social media companies are 'silencing millions of people,' exacerbating a longstanding paranoia from conservatives who have for years erroneously accused social media companies of bias and censorship," he wrote last Friday.
The article cited the president's tweet calling on Silicon Valley to stop censoring social media users in its so-called fight against fake news. "Social Media Giants are silencing millions of people. Can't do this even if it means we must continue to hear Fake News like CNN, whose ratings have suffered gravely. People have to figure out what is real, and what is not, without censorship!" Trump tweeted last Friday.
Darcy also accused conservatives of falsely claiming they are being "unfairly treated" by Silicon Valley giants to exploit what he describes as a "flimsy narrative." Further, The CNN reporter claims previous disciplinary actions against Jones were due to "hate speech" and "harassment" — not political ideology. "The tech platforms said they removed Jones' content for violations of their hate speech and harassment guidelines. They have maintained that they do not discriminate against users for their political beliefs," he wrote.
On August 14, Twitter slapped Jones with a seven-day suspension, which prevented him from tweeting or retweeting content. In a video shared on Infowars' Twitter account, Jones said Twitter suspended him over a video he shared in which he implored the president to investigate the social media censorship of conservatives.
Earlier in the month, Apple, Facebook, YouTube, and Spotify removed large amounts of content produced Jones and Infowars.
Apple removed the Alex Jones Show, along with five additional Infowars programs, from iTunes, citing "hate speech." "Apple does not tolerate hate speech, and we have clear guidelines that creators and developers must follow to ensure we provide a safe environment for all of our users," the company said in a statement. "Podcasts that violate these guidelines are removed from our directory making them no longer searchable or available for download or streaming. We believe in representing a wide range of views, so long as people are respectful to those with differing opinions."
Following Apple's lead, Facebook unpublished four InfoWars pages from their platform: the Alex Jones Channel Page, the Alex Jones Page, the Infowars Page, and the Infowars Nightly News Page. In a blog post, Facebook alleged the pages were removed due to the news outlet violating the company's "hate speech and bullying policies."
Google-owned YouTube deleted Jones' channel hours after Facebook took action against Infowars.
Breitbart senior technology correspondent Allum Bokhari contributed to this report.
https://www.breitbart.com/tech/2018/09/06/twitter-permanently-blacklists-alex-jones-infowars/