October 15, 2020
The Robber Baron Democrats of Silicon Valley and Social Media continue to abuse their power with their ongoing interference in the 2020 presidential election. Influential people don't want you to hear about Joe Biden's meetings with his son's alleged co-conspirators. Social Media outlets which allow the spread of idiotic conspiracy theories claiming Trump can be tied to kidnapping plots suddenly act like they have standards when it comes to verifiable exposes about the Joe Biden Crime Family.
Senile Joe Biden and his son Hunter's alleged Influence-Peddling schemes are getting more and more exposure in the news lately so Jack Dorsey at Twitter joined with Democrats at Facebook and elsewhere to smother AND IN SOME CASES SUSPEND accounts trying to share news stories about the ongoing Biden scandals.
The technofascists do not deserve Section 230 protection as they have proven over and over and over again that they abuse their power to shut out information and opinions that don't align with the views of privileged one percenters like Jack Dorsey. Even though Dorsey has admitted it was "unacceptable" to censor the reports about the Biden-Burisma corruption scandals, too much damage has already been done.
Here's Balladeer's Blog's reminder from earlier this year about how the modern-day Robber Barons like Dorsey and his ilk are even worse than the 19th Century Robber Barons. It was titled:
PUCK: ROBBER BARONS THEN AND SILICON VALLEY ROBBER BARONS NOW
TECHNOFASCISTS LIKE JACK DORSEY AT TWITTER ARE GARBAGE.
Puck magazine (1871-1918), the well-known political humor magazine, was at its height under original founder and creative director cartoonist Joseph Keppler. Here is a February 23rd, 1881 Keppler political cartoon depicting Jay Gould, the telegraph monopolist, and Cornelius Vanderbilt the railroad baron.
The point of the cartoon is the way those two Robber Barons – allied with like-minded newspaper tycoons – abused their wealth and political influence to bind the United States (represented here by Uncle Sam) to their will.
Joseph Keppler was outraged at the power so unethically wielded by such figures to cloak themselves in righteous, philanthropic public images while in reality they – in Keppler's words – clutched "the United States and all its institutions by the throat."
This is similar to the way the Silicon Valley and Social Media Robber Barons of today cloak themselves in "socially conscious" public images while in reality clutching the United States and all its institutions by the throat.
The Robber Barons criticized by Puck magazine exerted their ugly influence on behalf of right-wing politicians. The Robber Barons of the 21st Century tend to exert their ugly influence on behalf of left-wing politicians. The end results are equally totalitarian.
*** For THE CREEPY LINE, a documentary about abuses by Google, Twitter, Facebook and others
---
E-mails: Hunter Biden Had $30M Deal With Chinese Oligarchs. Text: Joe Biden Took Half of Relatives' Income
by R. Cort Kirkwood
E-mails found on a computer and published in the New York Post reveal that Hunter Biden stood to rake in tens of millions of dollars from Chinese Reds, while a text he wrote revealed that his father, Democrat presidential candidate Joe Biden, grabbed half the money family members earned.
The files are part of a document load the newspaper began publishing on Tuesday that supports previous reporting that has exposed the obvious. The Biden family has earned millions on Joe Biden's name and political power since he entered public life a half-century ago. But now, we learn, Biden cashed in, too.
In a video at his website, Trump adviser Rudy Giuliani calls the brood the "Biden Crime Family." He likened them to one of the Italian mafia families he brought down when he was a federal prosecutor.
In that case, the presidential candidate would be the Godfather. Hunter Biden, Giuliani said, kicks up to the father. In the argot of the mob, the old man "wets his beak."
Tens of Millions
The e-mails that reveal Hunter Biden's connection with China's megawealthy oligarchs say he would be paid a whopping $30 million to provide "introductions." And that didn't likely mean "introductions" to his drug dealer.
In an e-mail from August 2017, the Post reported on Wednesday, Hunter Biden explained how much he'll pull in from the "since-vanished" chieftain of Chinese energy company CEFC, Ye Jianming. Ye, the Post reported, was connected to China's military and spy agencies.
"Biden wrote that Ye had sweetened the terms of an earlier, three-year consulting contract with CEFC that was to pay him $10 million annually" for three years. Not bad for a dope addict kicked out of the Navy.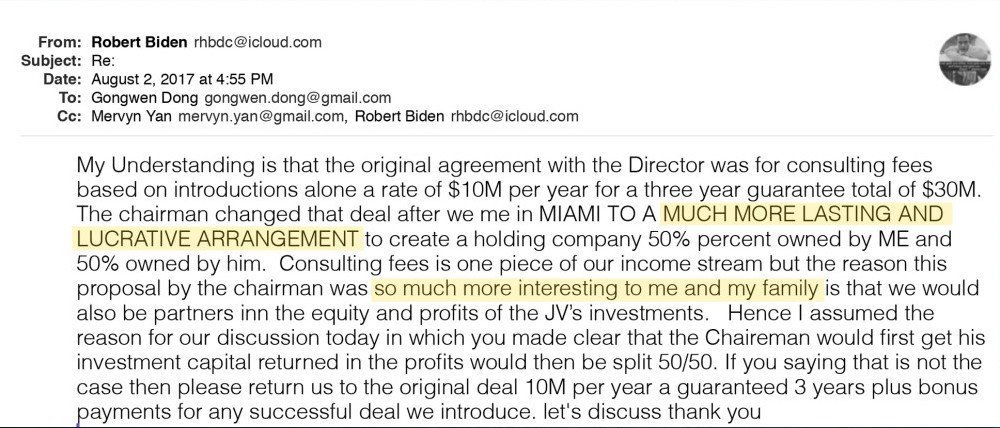 "My Understanding is that the original agreement with the Director was for consulting fees based on introductions alone a rate of $10M per year for a three year guarantee total of $30M," Biden wrote:
The chairman changed that deal after we me[t] in MIAMI TO A MUCH MORE LASTING AND LUCRATIVE ARRANGEMENT to create a holding company 50% percent owned by ME and 50% owned by him. Consulting fees is one piece of our income stream but the reason this proposal by the chairman was so much more interesting to me and my family is that we would also be partners inn the equity and profits of the JV's investments. Hence I assumed the reason for our discussion today in which you made clear that the Chaireman would first get his investment capital returned in the profits would then be split 50/50. If you saying that is not the case then please return us to the original deal 10M per year a guaranteed 3 years plus bonus payments for any successful deal we introduce. let's discuss thank you
An earlier e-mail discusses payments to Biden and his cronies that will include "10 held by H for the big guy?"
But again, the "big guy" is a mystery man.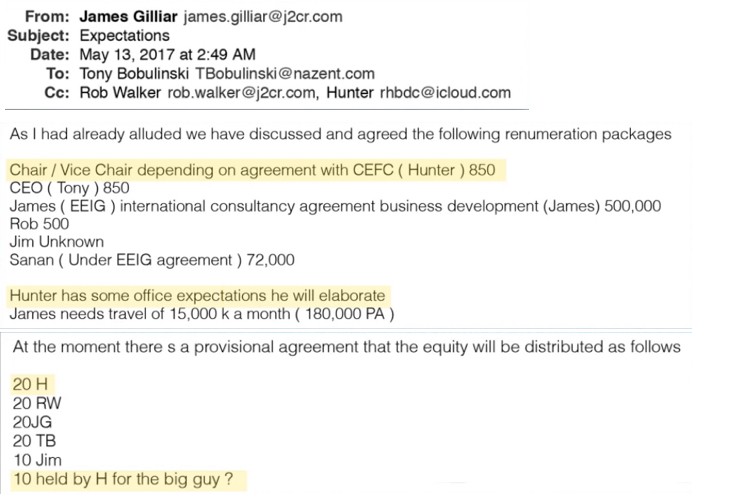 Kicking Up to 'Pop'
The text, revealed in a video and at Giuliani's website, states that half of Hunter Biden's earnings from his lucrative if undeserved business deals go straight back to his old man.
That's how crime families work.
Biden even called his old man "Pop," which is what Don Corleone's sons called him.
"I love all of you," he texted to his sister:
But I don't receive any respect and thats fine I guess -work for you apparently. I Hope you all can do what I did and pay for everything for this entire family Fro 30 years. It's really hard. But don't worry unlike Pop I won't make you give me half your salary.

The text is hardly a surprise. Nor is the claim that Biden's family has enriched itself because of its powerful if daft patriarch.
Last year, Politico published a long investigation of what it called "Biden, Inc." The story opened with a tale of outright influence peddling and corruption:
The day the Bidens took over Paradigm Global Advisors was a memorable one.

In the late summer of 2006 Joe Biden's son Hunter and Joe's younger brother, James, purchased the firm. On their first day on the job, they showed up with Joe's other son, Beau, and two large men and ordered the hedge fund's chief of compliance to fire its president, according to a Paradigm executive who was present.

After the firing, the two large men escorted the fund's president out of the firm's midtown Manhattan office, and James Biden laid out his vision for the fund's future. "Don't worry about investors," he said, according to the executive, who spoke on the condition of anonymity, citing fear of retaliation. "We've got people all around the world who want to invest in Joe Biden."

At the time, the senator was just months away from both assuming the chairmanship of the Senate Foreign Relations Committee and launching his second presidential bid. According to the executive, James Biden made it clear he viewed the fund as a way to take money from rich foreigners who could not legally give money to his older brother or his campaign account. "We've got investors lined up in a line of 747s filled with cash ready to invest in this company," the executive remembers James Biden saying.

At this, the executive recalled, Beau Biden, who was then running for attorney general of Delaware, turned bright red. He told his uncle, "This can never leave this room, and if you ever say it again, I will have nothing to do with this."

A spokesman for James and Hunter Biden said no such episode ever occurred. Beau Biden died in 2015, at 46.
Politico published a detailed chart that tracks the rise of the Biden Crime Family's fortunes.
Giuliani's video also explained the riches James Biden, Joe's brother, earned in the construction business in Iraq.
As Politico summarized it, "during the Obama years, several months after James joined a construction firm as an executive, the firm received a contract worth more than a billion dollars to build houses in Iraq while Joe oversaw the U.S.-led occupation of that country."
---
Related
https://nypost.com/2020/10/16/hunter-biden-emails-pics-reveal-wild-life-pained-soul/